You might be wondering how to fix microphone problems in Windows 10! Here we have illustrated and penned down an exclusive guide for you.
You can simply have a look at it and follow its detailed steps.
There comes an enormous number of times when your PC system mic does not work.
With the help of this below-mentioned guide, you can troubleshoot as well as resolve these mic issues.
These are common of all Windows microphone issues.
At times, a few of the issues and errors related to the working of the microphone are difficult to nail down and solve.
But this guide can help you. Still, if these solutions do not help you out then you can get a new mic for yourself.
For more of the Hardware Tips and guide on using Microphones and Troubleshooting, you can keep in touch and connected with us.
Keep on Checking and Inspecting Your Windows' Sound Settings
If you have got a microphone problem, then the very first thing that you have to do is to keep a check and thorough eye on your Windows sound settings area.
Most importantly, before you start on with the process of troubleshooting, you need to restart your computer.
There might be a chance and have this common probability that your Windows 10 microphone has got a temporary issue.
So, what you can do is to go for a simple rebooting process. And this is how you can solve this problem.
Look for the microphone troubleshooting. You need to reach and access the sound settings that are present right there in your Windows.
Most noteworthy, you can fully and thoroughly access these Settings by reaching to System and then clicking on the option of Sound.
Then you have to open up the dropdown box. This box is present under the zone of Choose your input device.
Hit on the mic option that you want to make use.
As soon as you make the desired selection of your microphone, then you have to speak and talk into it.
In other words, you need to and should be Test your microphone. If the bar moves up and down, it means your mic is working fine.
If the bar fails to move, then you have to hit on the Troubleshoot button and fix the problem.
You can check into the Device properties or what you can do is to change the Volume settings in order to adjust your mic functioning.
Moreover, you can go to the Sound page. In that zone, you have to look for the App volume as well as device preferences menu.
There you will be able to know whether you have selected the right mic or not.
Troubleshoot Your Microphone Audio Hardware Setup
The next solution for you to make your mic functional, it is to troubleshoot your Microphone audio hardware setup.
If you fail to get any of the input right from your microphone, then you need to follow this solution.
Like, if you utilize a USB mic, then there is an alternative for you to plug it into some other port of USB. In addition, avoid using any of the USB hubs.
It is always suggested to plug your microphone completely and directly into a slot that is existing there on your PC.
As soon as you notice that your mic has started to work properly through using another USB port, then it all means that your previously used port has to turn out to be dead.
More Tips Regarding Troubleshooting the Microphone Audio Hardware Setup
For all of your PC system windows 10 mics, you have to keep on checking whether all of the cables are fully and completely inserted or not.
None of the cables should be present in a loose form. Your headset microphone cable should be fixed and need not to loosen up.
Besides, you have to keep on checking for fraying cables and damaged cords.
There are a few of the microphones that are accompanied by physical mute toggle!
So, what you can do in this situation? For that, there is no need to enable or activate this physical mute toggle.
If these tips do not work for you, then you can further check the functioning of your ic by plugging into some other computer.
There might be a chance that your mic is working fine and your computer system is having some problem.
The updated drivers present in your Windows 10 microphone, they have to be working properly as well.
Make sure that your mic is installed with specific drivers. Only then, your microphone will be able to give you the best performance.
Allow Apps to Fully Access Your Microphone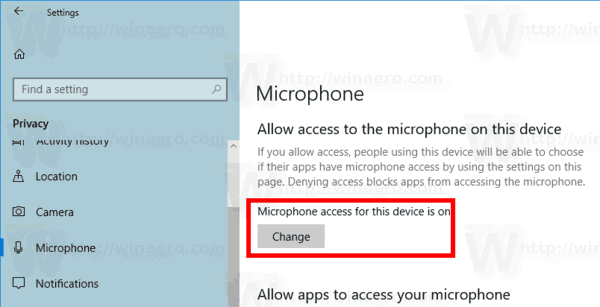 It is in Windows 10 that you might have seen a Privacy menu.
This privacy may tend to make blockage of a certain number of apps and they do not allow your system components to access your camera and microphone.
There might be the case that you have blocked an app and you have restricted it from accessing and using your microphone.
To fix your microphone problem, you can fully allow apps to access your microphone.
Like, once you have installed and updated your Windows 10, then there might be a probability that your mic does not work.
So, if your mic fails to get detected right after installing or updating Windows 10, then you have to official consent and permission to your apps to run your microphone.
For that, click on the Start button and then hit on the button of settings.
Go to Privacy, hit on Microphone and Select on the button or tab of Change.
Hence, this is how you can turn on Allow apps for the sake of accessing your microphone.
What to do if Others Fail to Hear Your Voice From Your Microphone?
You can go on opting a large number of solutions if others fail to hear you and if your microphone fails to convey your voice to the other person.
Most importantly, you have to double-check the Mute button of your mic is not enabled and active.
Furthermore, your microphone needs to be connected rightly and correctly to your computer.
Any of your microphone or headset, it has to act in the form of a system default recording device.
So, for your Windows 10, go to Start tab. Then hit on the button of Settings.
Access the tab of System and click on Sound.
It is in your input zone that you have to see this thing that your mic should be selected and marked in Choose your input device.
Lastly, to test your mic, just and simply speak into it.
What to do if Others Cannot Hear you in any of the Skype Calls?
Suppose, your microphone fails to convey your voice in any of the skype calls.
To tackle this problem, we have a solution for you. First of all, your mic has to be set and fixed at Skype default recording device.
To do this job, open Skype. Go to Settings.
It is there in Audio and Video and then under the tab of Speakers that you have to select your desired speaker type.
It is in the section of the Microphone that microphone has to be selected.
Tips if your Microphone Volume is Extremely Low
If you have started to notice that your microphone volume is too low and you have got windows 10, then we have a simple guide plan for you.
You are free to follow it at any time.
Firstly, your microphone or you can say that your headset has to be linked connected correctly and properly to your computer.
Besides, it has to be positioned correctly.
In order to increase and boost the overall volume of your microphone, what you can do is to select Start and then choose the option Settings.
Go to System and the tab of Sound.
It is on the Levels tab section of the Microphone Properties window that you need to adjust and set your Microphone.
The user has to make desired and needed adjustments in the Microphone Boost sliders. And then click on the button of OK.
Do a Thorough and Complete Review of all of your Recording Devices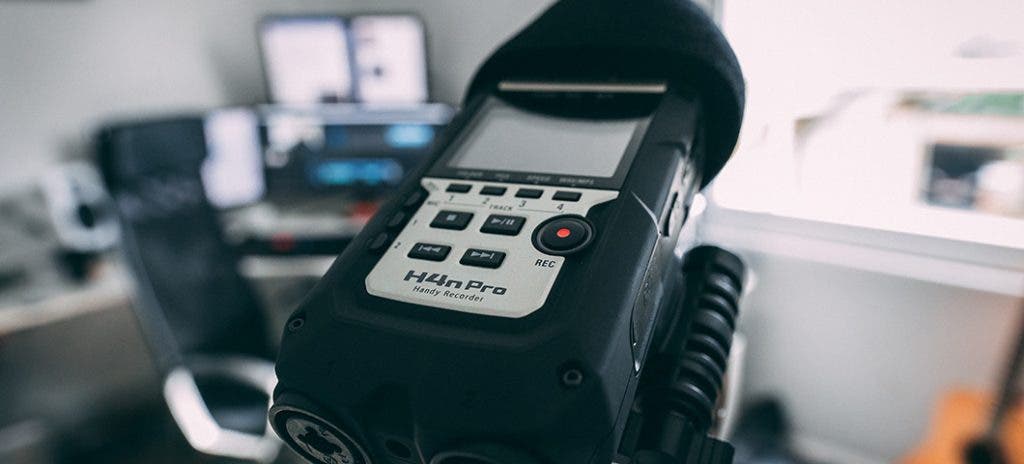 To make your microphone run and function properly, you can have a look and review all of your recording devices.
If the above-mentioned tips do not work for you, then it is important for you to review your list and a whole bunch of available input devices.
Simply click on the Manage sound devices option. This option is present on the same Settings page.
You can access this option by entering into the control panel. Go to the Start menu and have a look at the full list of choices related to Sound.
When you reach to the Recording tab, then there you can see the complete list of microphones that are linked and connected to your PC.
Moreover, you will be shown with Disabled Devices and you will be provided with details to Show Disconnected Devices.
You have to double-check that your primary microphone in Windows 10 is not disabled ad deactivated.
The minute you are going to speak into a mic, then a bar light will be turned on to give you this confirm that your microphone is working.
How to Check and Look for Mic Levels?
To know the details of your microphone levels, what you can do is to double-click right there on your mic.
This option is present in the Recording panel. In addition, on the Levels tab, you can adjust and freely set the input volume.
You are allowed to boost all of the supported mics. You can change the settings related to background noise suppression.
Upon accessing the Advanced tab, you need to uncheck both of the boxes that come under Exclusive Mode.
Disabling this specific option will be solving lots of your microphone problems.
Record Yourself to check whether the problem is in the microphone or in the system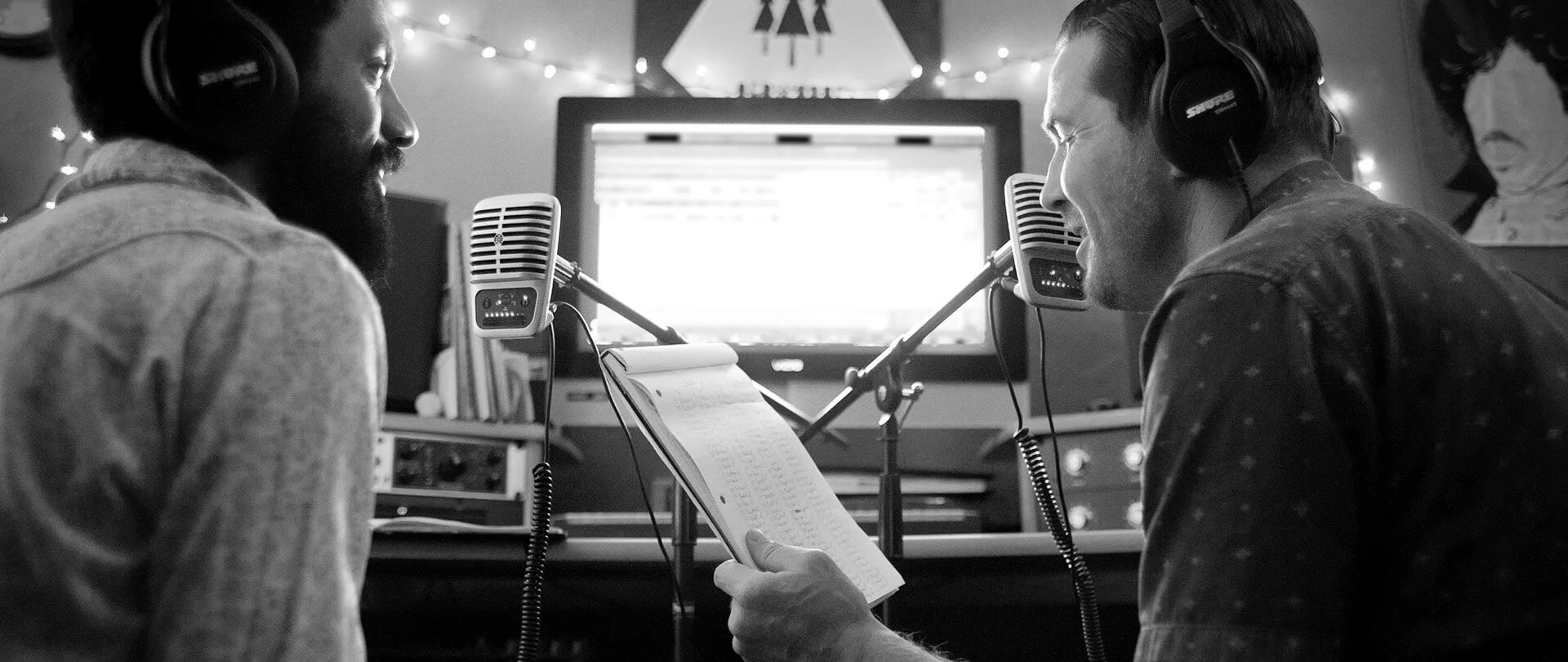 If your mic is still not working, then you need to make a short audio recording of yours.
This way, you can get an idea of whether a problem exists in your mic or in your system.
It is in this Windows 10 that you will come across with a built-in Voice Recorder app. This is a suitable and appropriate app for a quick test.
Xbox Game Bar Cause Microphone Issues
It is seen that Xbox Game Bar does cause and bring lots of mic issues.
If you have got Windows 10's Game Bar that is here to record clips as well as screenshots of your game, then it is better to disable and deactivate it because these settings damage the health of your mic.
You can reach to Settings, then Gaming and then the select Game bar.
After that, you have to disable Record game clips bt using the Game bar.
Furthermore, reach to the tab of Captures tab and click on the button do disable Record in the background.
Fixing Echo on Your Microphone
Lastly, Fixing Echo on Your Mic, we have the best solution for you.
It gets to be quite annoying whenever you tend to hear everything or your voice coming back to you.
If you want to reduce and solve these microphones echo problems.
then make sure that your microphone sensitivity level is not set or adjusted too high.
Disable the specific Windows setting option. For that, go to the Recording tab that is present in the Sound panel.
After that, you have to double-click on your input device. Turn on the Listen tab.
Conclusion!!!
This is how you can solve your microphone problems in windows 10.
If you have got some other Windows sound issues, then feel free to share that with us.
We will also solve that for you. It is time to correct the functioning and operations of your mic.
Follow the above penned down guide and let us know whether it works for you or not.
Keep connected with us, more of the details on such troubleshooting and ways to tackle mic problems are coming up.