As we all know how bad internet explorer really is or how bad people say it as many of them made jokes on this software that finally it reaches its obscurity.
But still, Microsoft includes the final version of this software in Windows 10 to make it as a reminder of what they achieved in the early 90s.
But this time it because of the compatibility reasons that they included this software in Windows 10.
Although there are some times when you have needed the help of the Internet Explorer or you might come with something that can only be fixed by the Internet Explorer.
So for this, we have arranged you an article in which we will be talking about all the issues you are having while you are running or working with Internet explorer.
Not only we will talk about the issues but we will be talking about how you can fix those issues as well.
1. Internet Explorer is Not in Active Development
As we have many possible problems that you might want to get help into, we would like you to take a look at the problem that is more obvious than the others.
As you know, Microsoft maintains a there older version of Windows and add some of the new components and make some updates before they release a new version of windows, just like that Microsoft did not make any effort of updating Internet Explorer in any way and the old internet explorer that was a decade ago is still the same. 
That's why the problem that is lying in the new version of internet explorer which is internet explorer 11, is because of lack of updates and lack of new features that this time or this time of technology needs.
Because of this, we should not use this browser and we do not recommend it as well because it is not compatible with the future or present technology.
The software is included with Windows 10 for some compatible use only or if something gets wrong then you have a backup browser for sure, as many companies still recommend internet explorer to be the business browser.
Until a site comes with much better options and you need the help of another browser such as Chrome, Firefox, Opera, Microsoft's revamped Edge.
As we will discuss many problems in this article but if you can not solve any problem easily then do not waste your time on that find something else or some other solution for it.
2. Basic Internet Explorer Troubleshooting: Updates Not Installed
As we all know that internet explorer does not get any software update, although a recent change made by Microsoft in this software too, they fixed a problem that is from long ago.
But if you want to start your troubleshooting, you might check for updates first, so you can do a full troubleshoot without any interruptions.
3. Can't Find Internet Explorer
As we all know an internet explorer is a built-in software of Windows. It also comes in Windows 10. 
But if the software is missing you can try searching in the start menu if it is still not found then an open run bar and type iexplorer.exe.
It will definitely solve your problem.
If you find any error of loading then it might that you or someone else have disabled it, perhaps the reason could that no one wants to use a browser which is so old.
If you want to activate your internet explorer again or want to enable it then you will have to go into Windows features, you can access it from your start menu.
When you are in the window of Windows Features then select the option 'turn windows feature on or off'.
Scroll down in the list and check if the internet explorer 11 is still unchecked or it has been checked.
If it is unchecked then check it and after that click ok and wait for the process to complete and then reboot your system.
4. Error 404 in Internet Explorer
Many time internet explorer shows this error which is called Error 404.
It means that the page you are searching for it is not on the internet, this error is caused when you have entered a wrong URL or accessing a wrong website which is a band from using, actually, this error is based on Internet explorer because many browser do not show these error signs but the error is rare in all browser including IE.
If you want to remove the error then just press F5, it will refresh your page.
If there is something with URL, double-check it and then refresh the page because many times the problem lies in the URL.
If the problem still does not solve then try searching the site using google.
5. Internet Explorer Crashes, Freezes or Hangs
There are many problems with internet explorer but most of the troubleshooting revolves around the poor performance of the software.
If you want to solve the problem you should run the internet performance troubleshooter. 
If you want to access the problem troubleshooter, then you will have to search for the control panel.
If you see a category option on the top right, then you should have to click it to change the icon into a smaller icon. 
After that, select the troubleshooting option and then select the view all option at top left corner. 
When you are just checking the results, double-click on internet explorer performance, before you go further choose the advance option and open with an administrator to have a great result in the end.
6. Internet Explorer Display Issues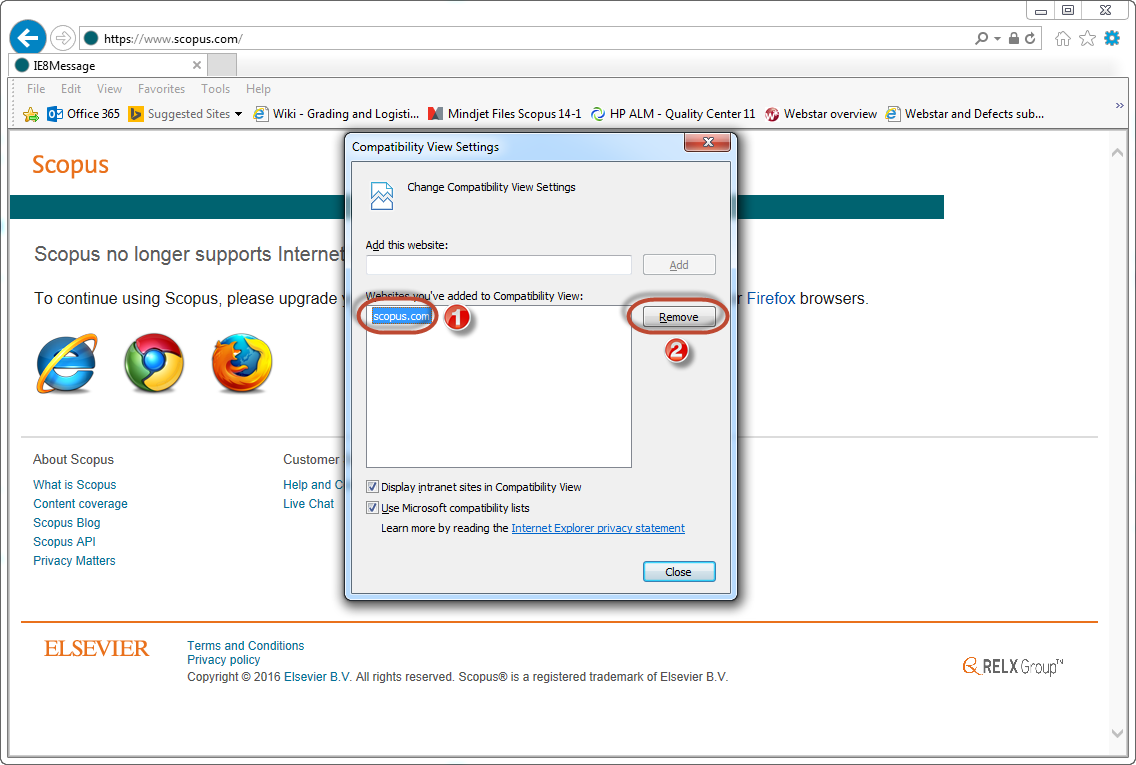 There can be many issues when you are loading a website as it is some problem with the images that are not loading, the black screen showing up, broken or jumbled text, or misplaced menus, then there could be some issues between the IE and the other browsers because these issues are normally happening if we use internet explorer.
As this problem can occur because of the compatibility view which is a view that takes care of all the things that are shown on a browser screen.
If you want to fix the issue of compatibility view then you will have to go into the settings.
You can find the settings in the tool menu and if you are looking for some other website then you can find it in 'add this website'.
Click on add button to display the compatibility view on your screen.
On the other side, if the site is looking wrong then it might on the compatibility view list if you want to make your site looking cool then you must remove it from the list.
You will not need to use this option until the site is specially made for IE 8 or older version of the browser that is older these days.
7. Videos Won't Play on Internet Explorer
If there is a problem playing a video or the video is not playing in IE then you should play it in another browser because most of the videos today comes with HTML 5 usage.
The technology is in every browser that is updated every time but if the problem is showing inside IE then it might be that IE lacks updates that the video needs to be played.
8. Can't See any Pictures in the Internet Explorer

If you are facing this problem then you must try all the things that we have learned above in this article like compatibility view, turning off tracking options, and clearing temporary internet files. 
Although there is another thing that disables the images in IE, as this is a simple catch that you can consider by yourself as well. 
Browse to tools, then go to internet options and then go to advance, scroll down into the multimedia option and see that show picture option is checked or not.
If the option is checked then you will have to restart the IE security settings.
Conclusion!!!
 We hope that this article helps you start IE and solve all the problems that IE has, we hope that Microsoft continues to make their own browser and make it better and better.