Let us have a look at the fun and cool Mac Terminal Commands to try.
One should know that terminal is one of the extremely useful tools presents and found therein macOS.
It is observed that this tool is so far and right now under-used by Mac users.
Furthermore, if you want to take complete control of this Mac system, then try out these commands.
For troubleshooting and to perform an extensive number of actions, this is a great tool of customizing things.
Moreover, Terminal act in the manner of command-line interface (CLI).
Now, let us check out the details of these terminal commands:
1. Check Server Response by Using Ping Terminal Command
This is the first one fun and cool Mac terminal command that you can try out! It is about checking your server response.
What you can do is to try out Ping.
It is comparatively more useful and reliable of all Terminal command that is availed and utilized by everyday Mac user.
Most importantly, with the help of this command, you will be able to check the response of any of your domain or IP address.
Furthermore, you will get an idea of how quickly that specific domain or IP address takes for the server to give a specific response.
2. Getting Weather Forecast by Using Mac Terminal Command
This is another fun Mac Terminal command that we have searched for you.
It is specifically and actually useful. If any of you looking to get and look for a three-day forecast related to local weather conditions, then or he/she can make use of this Mac terminal command.
In addition, to use this command, there is no need to open your browser. You only have to open Terminal.
And then you need to type in curl wttr.in. This is how you will be given with your local forecast details and exact information.
The best part about this command is that you will get a breakdown of all of your morning, afternoon weather forecast as well as evening, and night conditions.
The user is going to get accurate data on current weather times too.
3. Clearing and Checking out your Terminal Command History
A few of the users, they prefer to keep a check on their Terminal command history. At times, they want to clear this history.
So, it is recommended to use a specific Terminal command to perform this job.
Upon entering a specific command, you will get to see all of the penned down commands that you have entered in the past times.
You will be allowed to copy and paste those long Terminal commands by using this same command.
This is the only way you can delete and remove your command history right from Terminal.
Simply teach to history -c and get your desired job done.
As soon as you enter a command, then your history is going to be deleted. And none of the other people will be able to pull up or steal your command line history.
4. Disabling Screenshot Shadows by Using Mac Terminal Command
You may wish to disable or toggle off any of your screenshot shadows, you can process and carry out this job by entering a required and needed Mac terminal command.
The command that needs to be entered, it is defaults write com.apple.screen capture disable-shadow -bool TRUE.
The purpose of using this command is to bring changes and revisions right in the boolean variable.
Moreover, this boolean variable is related and linked regarding disabling drop shadows that are taken from the screen capture configuration file present and located on your Mac.
By using this command, you will see no longer drop shadows, they are going to no longer appear on your system.
To save all these revisions and changes, you have to enter this command: kill all SystemUIServer.
By doing so, you will be able to restart critical services that are residing on your Mac.
Furthermore, if any of you wants to re-enable and re-activate screenshot shadows, then you are free to carry out the above-mentioned and penned down commands again.
The only difference is that you need to replace the "TRUE" command with "FALSE" command.
5. Stress Test the Processor Your Mac
Moving to the next details of fun and cool Mac terminal commands, you can try out this command that is about stress test the processor part of your Mac.
If you have started to suspect and notice that your Mac's fans are not working properly or you observe that your system is not working in a fine manner, then it is advised to use this command.
This is how you are allowed to stress test your processor.
The command that has to be entered by you, it is this yes > /dev/null.
And if you have got and holding a multi-core Mac, then make sure that you type and enter this command several and multiple numbers of times.
Like, if your system is composed of four cores, then the command has to be typed and entered up to 4 times right in a form of row.
You have to follow this format: yes > /dev/null & yes > /dev/null & yes > /dev/null & yes /dev/null &.
Lastly, you are allowed to end and stop the stress test at any point in time.
So, whenever your Mac system starts to show faulty fan presence, then you can verify its working by using this command.
You can get assistance from this command to see whether your Mac fan process is choking or not.
6. Use Mac terminal Command to Meet the Psychotherapist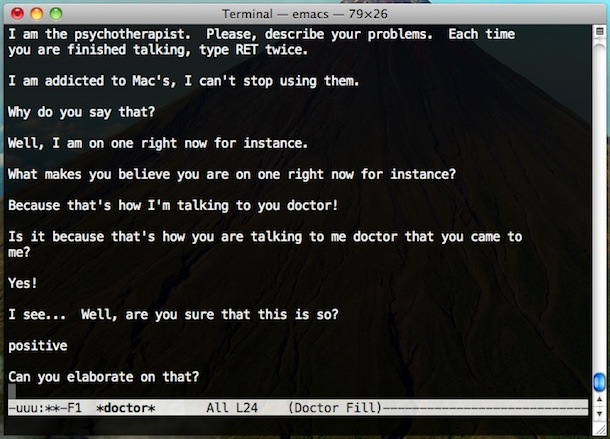 Lastly, you can use the Mac terminal command to meet the psychotherapist.
If you are having a quiet time in your life and you want to talk to someone, then why not using a terminal command.
It will be of great use for you. This is a cool Terminal command and it fully allows you to engage and talk in a more active manner.
This command act in the form of a therapy session.
Like, if an individual is suffering and experiencing from stress because of personal or professional life phases, then this command can become your friend.
This one is a free alternative instead of visiting any of the actual therapists.
Upon utilizing this command, you can get in touch with Emacs's virtual psychologist. The first step is to Launch Terminal.
Then you have to type in and enter emacs. After that, you have to press Return. Keep on holding down Shift.
And then the user has to press the button of Escape. The next step is to hit on X key and type in a doctor.
Simply pen down regarding what you want to say and the conversation is going to be started.
Conclusion!!!
So, which of the Mac terminal command you want to try out! Do let us know if you have tried out rest of the terminal commands.
Share your experience with us. We tell you about the bonus command, it is to keep your Mac away from falling asleep.
You can use the respective command and you are going to see that your Mac will not fall asleep, it is not going to dim its display and it will keep on showing the screensaver.
Moreover, this command will allow your Mac system to keep on staying awake for about a time frame of 150,000 seconds.
You can auto disable this command if you want to. Keep in touch with us, more details on these topics are coming up sooner on this web page.